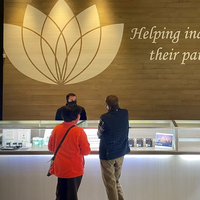 Store openings, sales and patient enrollment accelerate heading into spring
JEFFERSON CITY, Mo. – Just shy of the industry's six-month mark for operations, 120 medical cannabis businesses are now approved to do business in Missouri, where patient enrollment approaches six figures and cumulative sales are just shy of $30 million.
Eighty (80) of the facilities to receive state operating approval to date are retail dispensaries, as new locations open across Missouri on a near-daily basis. The state Department of Health and Senior Services has licensed a total of 347 facilities to cultivate, manufacture, test and dispense medical marijuana to Missouri patients.
Weekly medical marijuana sales in Missouri have averaged more than $2.5 million over the past month, with DHSS reporting cumulative medical cannabis sales of nearly $30 million statewide through Friday, April 9.
As of Monday, more than 95,000 patients and caregivers have received their state-approved medical cannabis cards, with thousands more applications pending.
"We've been crisscrossing the state for weeks now as new businesses continue to come online," said Andrew Mullins, executive director of MoCannTrade (The Missouri Medical Cannabis Trade Association). "Our growing industry is not only improving the health and well-being of Missouri patients but also creating thousands of new jobs while funneling millions in new and needed tax revenue to the state."
Medical cannabis sales in Missouri include an additional 4 percent sales tax dedicated to health
and care of military veterans.
To highlight the breadth of knowledge, experience and passion seen throughout Missouri's newest high-impact industry, MoCannTrade offers these brief member spotlights:
fresh.green dispensaries
Locations: Kansas City, Lee's Summit
Owners: Bianca and Rob Sullivan
Attorneys Bianca and Rob Sullivan had a successful law practice in Kansas City for more than a decade before the couple ventured into the medical cannabis industry.
With the October 2020 debut of its Lee's Summit location, fresh.green was the first dispensary to open in the Kansas City area, and the second statewide. Its second store in Kansas City's Waldo neighborhood opened in March.
The locations are intentional for the Sullivans – Bianca grew up in Waldo, and the couple raised their children in Lee's Summit.
As part of its corporate philosophy, fresh.green provides a dedicated percentage of its profits in the form of discounted or free medicine for patients in need, including veterans — an amount Rob Sullivan said topped over $150,000 in the last two months of 2020 alone.
Missouri Wild Alchemy
Locations: O'Fallon (two dispensaries)
Owners: Jason and Nicole Crady, Scott Hitchcock
As a career firefighter and paramedic, Jason Crady has seen the opioid epidemic's damage firsthand. As a pharmacist, his wife and business partner Nicole is keenly attuned to the importance of patient education both in the field and at their two Missouri Wild Alchemy dispensaries in St. Charles County. Their third partner, civil engineer Scott Hitchcock, tapped his skills to help design the two retail outlets.
As lifelong Missourians with deep community connections, the Missouri Wild Alchemy team takes pride in their patient- and community-first approach.
Flora Farms
Locations: Humansville (cultivation and dispensary), Neosho and Springfield (dispensaries)
Owners: BD Health, ERBA Holdings; Mark Hendren, president
With a 120,000-square-foot indoor growing facility and three dispensaries across southwest Missouri, Flora Farms fixes its focus squarely outside the state's two big cities – and two most congested markets.
The Springfield/Joplin ownership group includes doctors, lawyers, CPAs and business owners from the four-state region (state law requires Missouri ownership of at least 50 percent; President Mark Hendren says Missourians account for 80 percent of ownership).
Flora Farms won state approval to begin operations at its cultivation facility in October 2020, with its three dispensaries opening between December 2020 and February of this year.
Hendren said the company plans to increase its growing capacity by 50 percent before year's end, producing more than 3,000 pounds of cannabis per month and making it one of the largest indoor cultivators in the state.
The Valley
Location: Farmington
Owners: Dan and Alex Freund
After nearly a quarter-century as a small-town pharmacist, Dan Freund joined his son Alex, a recent college graduate, to own Farmington's only medical cannabis dispensary – in the same building Medicap Pharmacy previously called home.
Freund says he pivoted to help "veterans with PTSD, patients undergoing chemotherapy, people with psychiatric problems and to add to the quality of people's lives in southeastern Missouri."
The Valley opened February 1.
COCO
Locations: Chillicothe, Hannibal and Moberly (dispensaries), COCO Labs, Clarence (infused products manufacturing)
Owners: Ethan, Clay and Brooke Foster; Skyler, Mark and Amy Thomas
Many businesses strive to create a family atmosphere at work, cannabis included. At COCO and COCO Labs, it really is (almost) all in the family.
With a University of Missouri plant science degree and medical cannabis cultivation experience in New Mexico, COCO owner Ethan Foster enlisted his parents as partners in the northern Missouri company, joined by a second family. The Foster clan also own C&R Supermarkets, an 11-store grocery chain in business since 1957.
With deep family roots in northern Missouri, COCO is proud of the "small-town hospitality" at its three retail locations, said chief operating officer Brooke Foster, who is also Ethan's Mom. Co-founder Skyler Thomas is Ethan Foster's cousin (their mothers are sisters).
"We felt strongly that Missouri patients in this part of the state needed easy access to their medicine," she said.
Nirvana Investments LLC
Locations: N'Bliss dispensaries (Ellisville, Festus, House Springs and Manchester); 5150 N'fusion manufacturing/infused products (Festus); Bold Lane Logistics transportation (Festus)
Owner: Brad Goette, CEO/managing partner, Nirvana Investments
N'Bliss is rightfully proud of its status as the first legal cannabis dispensary to commence operations in Missouri, as well as the site of the state's first legal medical cannabis patient purchase in October 2020. But that was only the beginning for CEO Brad Goette and his team.
Its two Jefferson County dispensaries will soon open in the coming weeks, while its manufacturing and infused products facility, also in JeffCo, is expected to receive state operating approval in May. That paves the way for Nirvana's full line of edibles, concentrates, vape cartridges and more.
May is also when the LLC's transportation licensee opens its doors.
N'Bliss dispensaries are also open to the public for CBD sales, a market differentiation company leaders say makes for a more welcoming environment to help educate and engage with prospective patients.
-----
MoCannTrade (The Missouri Medical Cannabis Trade Association) is an association of business owners, health care providers, professionals, patients and residents responsible for helping to implement a successful, safe, compliant medical marijuana program in Missouri.
The membership-based association is directed by a board of diverse professionals experienced in medical marijuana, healthcare, law, pharmaceutical, science, agriculture, law enforcement, security, commercial real estate, finance, public affairs and regulatory sectors.
To learn more about MoCannTrade please visit www.mocanntrade.org
---