NOMINATION OVERVIEW & SUBMISSION FORM
As our industry evolves, so does MoCannTrade with a specific focus on meeting the needs of our members and the industry. With that, we are reopening our industry nominations April 1st 2022 to populate our industry facing committees, open advisory board and board of director seats.
As the representative voice of trade for Missouri cannabis, it's paramount to our success to speak with a unified, impactful voice – on everything from policy discussion to regulatory development to legislative matters. This is your call to action to participate in our association leadership, boards and industry-facing committees to further strengthen our credibility as we advance Missouri's medical cannabis industry.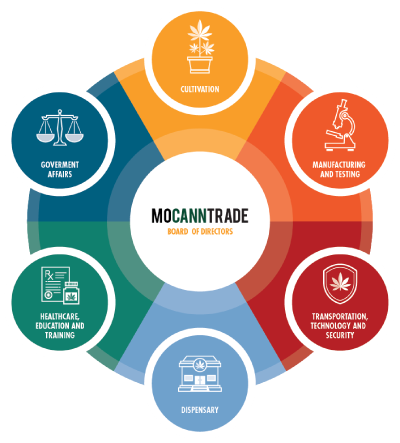 WHO CAN NOMINATE?
MoCannTrade Platinum Members
MoCannTrade Licensed Facility Members
MoCannTrade Board Members
WHO CAN SERVE?
Active board, platinum or licensed facility members can self or peer nominate anyone they believe will be a strong contributor to the association and our industry.
HOW DOES IT WORK?
From April 1st 2022 to April 30th 2022, Platinum or Licensed Facility members can submit a self or peer nomination. All submissions will be evaluated by MoCann's five person Nominating Committee. With each nomination submission, background & rationale for the nomination will be weighed. Once all nominations have been received, the nominating committee will move quickly to identify and contact finalists by mid May.
THE IDEAL CANDIDATE …
Must possess the appropriate balance of industry intelligence, medical cannabis industry passion, sound judgment, a desire to advance our program, represent and drive sensible regulatory, policy or legislative development. Consideration will also be given to gender, racial and geographic diversity.
Must participate in committee meetings and calls to accomplish policy, regulatory or program needs (could be multiple hours per week)
Serves as a voice for their business, community, industry and the greater Missouri medical cannabis program on all relevant matters
UP FOR CONSIDERATION
2022 BOARD OF DIRECTORS: 8 seats (board seats are 2yr terms, with 8 seats up for consideration) 
2022 ADVISORY BOARD: 42 seats (advisory board seats are 1yr terms with all 42 seats up for consideration, although returning advisory board members may be given additional consideration based on participation and impact) 
INDUSTRY FACING COMMITTEES:
— Cultivation (9 member committee)
— Manufacturing/Testing Lab (9 member committee)
— Dispensary (11 member committee including one per congressional district)
— Transportation/Security/Technology (11 member committee)
— Government Affairs (5 member committee)
— Healthcare Education and Training (11 member committee)
---
Our Nomination Window Will Reopen in April 2022 With New Board Members Announced in Early June
BECOME A MISSOURI MEDICAL CANNABIS TRADE ASSOCIATION MEMBER