Missouri Medical Cannabis Primer Presentation & CME Credit, Now Available For Free
With Medical Cannabis now legal in 36 US States, practitioners have a greater need than ever to understand the laws surrounding this program, cannabis as medicine, the endocannabinoid system and the research available for its use in qualifying conditions. In Missouri, Amendment 2 became law effective December 6, 2018. Across the state, there is a general lack of information available about the program, the patient certification process, treating qualifying conditions and the potential benefits of medical cannabis.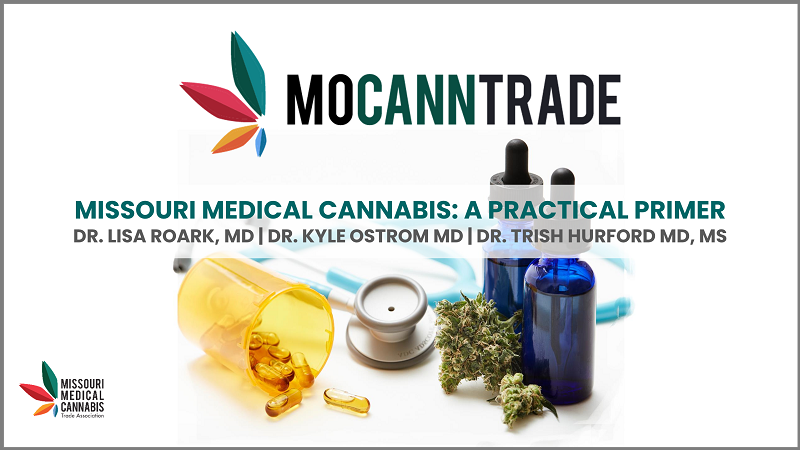 MoCannTrade's Healthcare Education and Training committee is helping fill those information gaps by creating and providing a free Missouri medical cannabis program primer. This CME activity was developed by physicians for Missouri practitioners to provide a broad overview of cannabis as medicine, physician responsibilities along with the legal protections provided by Amendment 2 / Article XIV. Led by three Missouri MDs/DOs, the medical cannabis primer includes a simple pre-post test questionnaire to ensure participants come away better informed, educated and with a clearer understanding of their role and responsibility in certifying or treating medical cannabis patients in Missouri.
GO TO MISSOURI MEDICAL CANNABIS: A PRACTICAL PRIMER NOW
Other Training and Education Resources
The following are cannabis education, training, and resources. The links provided have been reviewed by our Healthcare Education and Training Committee, however, they are provided as references, and are not endorsed by the association or the committee.  We hope these links are helpful to users educational journey about cannabis.