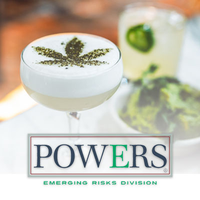 Missouri Cannabis Facilities: Secure Your Insurance NOW! | DO NOT WAIT!
Guest Post by Christopher Sullivan, PWCA | MoCannTrade Platinum Member | POWERS Insurance and Risk Management
Commencing cannabis facilities face a daunting to-do list with an impending operational deadline by DHSS. Naturally, the to-do list is prioritized, and insurance sometimes falls low on the list with the expectation, or perhaps hope, the process will be quick and easy. I am here to save you time and frustration by sharing the reality of the insurance process: Depending on the nature of your facility and operation, securing a proper insurance program is a detailed, involved process that takes time.
How long does it take to secure insurance?
Many variables come into play when securing insurance. Due to the unique characteristics of each facility, the underwriters who are highly specialized in this industry, will take a magnifying glass to the application criteria. The discovery process and processing time often take up to 3 to 4 weeks before a firm, bindable quote is extended.
Single site dispensaries or small transportation companies may be simpler in comparison to larger operations such as cultivation and manufacturing facilities. However, all operations are experiencing a detailed underwriting process that requires a great deal of data and lengthy processing times.
What are the underwriters looking for?
Some criteria that underwriters look for will include but are not limited to:
Facility location

Distance to the nearest fire hydrant

Distance to the nearest fire department

Construction materials

Presence of a fire sprinkler system

Security Details

Safe/vault room fire rating and construction details
All the above have a large impact on premium rates and various carrier eligibility.
What is my priority?
Cannabis facility operators and cannabis insurance professionals should be searching for distinctive policy terms, but your priority would be to ensure that the property capacity need is met.
Many cultivation and manufacturing facilities have multimillion-dollar buildouts, equipment values, work in process and inventory values, and millions of dollars in revenue potential. (Revenue would be insured as business interruption or business income.) All these combined, the total property limit need for many facilities is often several millions of dollars, yet most insurers in this space have a property capacity limit at a fraction of the need. Although the lengthy underwriting process is inevitable, there are many solutions available to properly insure your investment.
What is the best approach?
If you have not already, start now! Facility operators should align themselves with an insurance expert who is familiar with navigating the process. Be wary of anyone who promises a "quick quote". Those who make those promises tend to provide limited policy terms and low property capacity. I call them proactive insurance brokers. They will pursue more than one solution to allow for options, comparisons, and the "lowest bid".
As great as a proactive insurance broker sounds, an experienced insurance broker (see MoCann list of member providers here) will have undergone the front-end underwriting allowing for the strategic approach of the solutions best suited for the individual risk. This makes for the most time-efficient process possible in securing distinctive policy terms and capacity limits.
About Chris Sullivan and POWERS Insurance & Risk Management
Chris and the team at POWERS Insurance & Risk Management have successfully helped several cannabis facilities with the commencement process as well as ensuring those facilities are properly insured and operating due to our expert knowledge and efficiency. Contact Chris Sullivan at christophers@powersinsurance.com, 314-333-4915, or www.powersinsurance.com/chris-sullivan.

---