Metrc Ruling, Vaccine Eligibility, $1.2M MMJ Sales/wk again, Jan. Webinar Replay, Feb Meetup Announced 
Does this email not look right? Try viewing this email in a browser.

INDUSTRY & MEMBER UPDATES
 -- 01.27.21 Edition --

DHSS SMMR PROGRAM UPDATES
Metric Loses Tag Fees Appeal, Dispensary Staff Vaccine Eligibility, 11 New Dispensaries, MMJ Sales Top $8.8MM Total
METRC LOSES APPEAL OVER TAG FEES: Metrc, Missouri's chosen track and trace provider for the medical marijuana program, has lost an appeal in which it hoped to receive affirmation it could charge medical marijuana facilities incremental tag fees.Click for more info on the ruling.
"By once again preventing hidden fees from being passed along to patients and the cannabis industry, today's appeals court ruling is a resounding victory for Missouri's medical marijuana program. The seed-to-sale tracking system approved by Missouri voters plays a key role in ensuring that medical marijuana is safely and securely handled all the way from cultivation to a dispensary sale. However, allowing a vendor to charge both the state and the industry for this service would have simply driven up costs without any practical rationale. We thank the Office of Administration and Missouri Department of Health for protecting the more than 75,000 Missouri medical marijuana patients and 338 facility license holders from these excessive, hidden fees," said Andrew Mullins, MoCannTrade Executive Director. 
PATIENT-FACING HEALTHCARE PROVIDERS NOW ELIGIBLE FOR COVID-19 VACCINE: Governor Parson and the Missouri Department of Health and Senior Services announced activation of Phase 1B - Tier 1 for COVID-19 vaccinations in Missouri. As part of this announcement, the state is prioritizing getting the vaccine to "all remaining patient-facing healthcare providers." 
According to DHSS, this announcement will allow patient-facing medical marijuana dispensary staff to immediately be eligible for the vaccine. For those interested, details about how to access vaccinations can be found at MOStopsCovid.com. Some Missouri dispensary staff have already signed up and received the vaccine.   
"As we travel around the state visiting facilities, we just want to say how proud we are that this industry is pulling out all the stops to ensure the health and safety of patients. At each facility we see masks being worn, social distancing being practiced, and a safe and welcoming environment for patients, many with underlying health conditions, being established. Please continue to be leaders in your community as vaccinations become available." - Andrew Mullins  
DHSS PHYSICIAN CERTIFICATIONS VIA ONLINE: The Section for Missouri Medical Marijuana Regulation at the Department of Health and Senior Services (DHSS) is pleased to announce that it has begun rolling out a new function in its online system for patient registration that will allow physicians to submit patient certifications electronically. The Medical Marijuana program began reaching out to physicians to explain the upcoming changes and to offer training on the new capabilities of the online system.  Click here for the full press release.
TESTING FOR MOISTURE IN BEVERAGES: In recent MoCannTrade industry committee discussions and feedback from discussions with operators while visiting facilities with Director Fraker, a concern was raised as to the requirement for testing moisture in infused beverage products.  Following the logic behind the blanket variance labs would not be required to test for residual solvents in unprocessed cannabis flower.  Our lab members, manufacturers and industry stakeholders felt a similar variance approach could be granted to testing labs to exclude water or moisture testing as part of infused beverage product testing. 
DHSS responded with the following statement:  "We agree moisture content testing of beverages is a good candidate for blanket variance. We will work toward distributing/posting soon."  MoCannTrade members and the industry are excited for this change that helps to expedite the beverage testing process and potentially reduce testing fees and product pricing to patients.  
COMMENCED FACILITIES TO DATE: As of Monday, January 25th, the number of commencement requests grew to 115, and the commenced number is now 61 total approved to operate. Dispensaries open and selling are in bold text below.
CULTIVATION: 
Beleaf | Sinse – St. Louis

Archimedes Medical Holdings | Solhaus  - Perryville

Feelz Good Products | C4  - Carrollton

BD Health 1 | Flora Farms - Humansville

BD Health 2 | Flora Farms - Humansville 

BD Health 3 | Flora Farms - Humansville 

Focus Partners | Greenlight – Kansas City

OXG LLC | Illicit Gardens  - Independence

GF Biomass | Green Farms - Cuba

Hippos LLC | Hippos - Vienna

FUJM LLC | Glasshaus - Perryville

New Growth Horizon LLC | Proper Cannabis - St. Louis

Beleaf - Cherokee St. | Sinse – St. Louis

Focus Partners Kansas City LLC | Greenlight - Kansas City

Focus Partners Kansas City LLC | Greenlight - Kansas City
MANUFACTURING:
Green Four Ventures | Clovr - Kansas City

Next Wave MO LLC | Greenlight - Kansas City

New Growth Horizon, LLC | Proper Cannabis - St. Louis

BeLeaf Medical LLC | Phytos - St. Louis
TRANSPORTATION:
KC Cann Transport – Blue Springs

Special Services - St. Louis

CLS Med-Can Logistics LLC - Kansas City

The Daily Hybrid - Eureka
DISPENSARY: 
Nirvana Bliss 2 | N' Bliss - Manchester
Nirvana Bliss 5 | N' Bliss - Ellisville
Swade | Beleaf - St. Peters
Missouri Health & Wellness  - Washington
Missouri Health & Wellness - Sedalia
Fresh Green - Lee's Summit
The Dispensary - Cassville

Old Route 66 Wellness - Ozark

Old Route 66 Wellness - Springfield

Harmony Neosho | Flora Farms - Neosho

GRD | Green Releaf - Moberly

Missouri Health & Wellness - Kirksville

AW Enterprises | 3rd Street Dispensary - Lee's Summit
GRD | Green Releaf - Mexico
Show Me Alternatives | COCO Dispensary - Moberly
Releaf Resources - Grandview

BD Health Retail 1 | Flora Farms - Humansville

GRD Troy LLC | Green Releaf - Troy
COMO Health LLC | 3Fifteen Primo - Columbia

BMD Smithville LLC | Besame Wellness - Smithville  

OXD 19341 | From The Earth - Independence

OXD Troost | From The Earth - Kansas City

LSA314 Inc | Taste Buds - St. Clair

Missouri Joint Ventures, LLC | MJV - Nixa

SMO5 LLC | Blue Sage Cannabis - Lebanon*

Missouri Health & Wellness - Jefferson City*

Mo Med Chillicothe, LLC | CoCo Dispensary - Chillicothe*

29 & 79 LLC | The Valley - Farmington*

Cape Girardeau Investments LLC | Greenlight - Cape Girardeau*

Occidental Group, Inc | Star Buds - Festus*

Sikeston Investments LLC | Greenlight - Sikeston*

Easy Mountain Investments LLC | Easy Mountain Dispensary - Republic*

SMO4 LLC | Blue Sage Cannabis - Carthage*

Ozarx Botanicals I LLC | Springfield*

BMD Swift LLC | Besame Wellness - N. Kansas City*
TESTING LABS: 
EKG Life Science Solutions | MoCann Testing -  St. Louis  

Green Precision Analytics | GPA - Kansas City

GCA Inc - Herculaneum
*Newly commenced
MISSOURI MEDICAL CANNABIS PROGRAM STATS:  For your reference, we have gathered key program stats into one handy place below or follow the link to get data directly from DHSS here. 
As of Friday, January 22nd, DHSS completed 367 minimum standard reviews (aka verifications), or 98% complete. There are now 115 facilities requesting a commencement inspection in MO.
Facility Verification Progress:  367 of 374 verifications completed (98%)
Change Requests: 262 total requested, 183 complete
Commencement Inspections: 115 requested, 41 in progress, 15 set aside, 59 complete
Operational Deadline Variance Requests: 273 total requested, 119 complete
Patient Certifications: From 01.25.21, the state has approved 78,433 patients and caregivers, and 1,548 agent IDs for those applying to work at licensed facilities.
Medical Marijuana Dispensary Cumulative Sales: Beginning October 16, 2020 and cumulative through January 22, 2021, DHSS is reporting $8,807,160 in total MMJ sales.
MOCANN PAC, MOLEG, FEDERAL POLICY
UPDATES AND PRIORITIES 
FEDERAL CANNABIS POLICY WATCH: The first of many cannabis federal bills introduced: Congressman Greg Steube (R-FL) filed the HR 365, which is identical to a measure he sponsored last session. It would simply move marijuana from Schedule I to Schedule III of the Controlled Substances Act (CSA). Text of the legislation is expected to state that "the Attorney General of the United States shall, by order not later than 60 days after the date of enactment of this section, transfer marijuana…from schedule I of such Act to schedule III of such Act."  Many other proposals are expected to be re-introduced in the following weeks.
MISSOURI LEGISLATIVE UPDATE WEEK 3: Due the Martin Luther King, Jr. holiday it was a shortened week.The Senate resumed normal activities with first and second reading of bills and committee hearings. The House was not in session due to a Covid-19 outbreak. More members did test positive this week. As of this report, a total of 372 House Bills have been introduced.  Most Majority sponsors have yet to introduce their priorities.
Covid Liability Legislation:  The Senate Judiciary Committee met last Tuesday and heard both Covid liability senate bills. Senate Bill 51 sponsored by Senator Tony Luetkemeyer (R-Parkville) establishes protections against Covid-19 related actions.  Senate Bill 42 sponsored by Senator Bill White (R-Joplin) modifies provisions relating to liability for all civil damages resulting from the state of emergency due to COVID-19. White is hoping to provide protection for health care entities, manufacturers and businesses from liability. During bill presentation, committee members expressed concerns regarding the possibility of healthcare workers still being subjected to liability due to the ongoing shifting of guidelines with the continuance of various emergency declarations pertaining to COVID-19.  According to the chairman of the committee Senator Tony Luetkemeyer, over 300 businesses, health care workers and insurers submitted written testimony in support of the legislation online. At the time this report was sent, a second hearing had not yet been scheduled.
Covid-19 Vaccine Update: Last Wednesday, Governor Parson announced the Missouri National Guard will begin assisting the Department of Health and Senior Services (DHSS) and other state partners in establishing COVID-19 vaccination sites across the state. A mass vaccination team will be assigned to each of Missouri's nine Highway Patrol regions. A mass vaccination site is scheduled to begin this week in the Southeastern region, and other sites will be operational in the remaining eight Highway Patrol regions by the end of January. These sites have the capability to provide up to 2,500 doses per day, per team. More details concerning dates and locations will be released once finalized.
Targeted vaccination sites provide vaccines to populations outside the reach of mass vaccination sites, as designated by DHSS. Target vaccination teams will work with clergies and community leaders in the Kansas City and St. Louis regions to vaccinate vulnerable populations. Teams staffing these sites have the capability to provide up to 160 doses per day, per team. For more information, go to mostopscovid.com.
State of the State Hiring Increase for DHSS: Governor Mike Parson State of the State address was today at 3pm. In highlighting his budget and policy priorities, it appears he accounted for an additional (5) FTE staff for DHSS SMMR.  
BILL FILED TO ALLOW MMJ USE IN HOTELS AND AIRBNBS: Hotels, Airbnbs and other lodging facilities in Missouri would be allowed to let medical marijuana patients consume cannabis on their properties under a recently filed bill.
The legislation, titled the "Reduction of Illegal Public Consumption by Allowing for Compassionate Access to Medical Marijuana Act," would require the state Department of Health and Senior Services to create a new "medical marijuana lodging establishment" license for the facilities. They would have to submit an application and a $50 fee to the agency in order to obtain the new approval.Click here for more details about the bill from Marijuana Moment.
MOLEG WEEKLY WATCH REPORT:  During the 2021 legislative session, MoCannTrade is providing our medical cannabis-related legislative watch reports in our weekly eblast. The MoLeg watch report is a customized web report that updates in real-time any bill or amendment related to medical cannabis. Access the MoCannTrade weekly watch report here. 
MOCANNTRADE PAC CONTINUES TO BUILD SUPPORT:  As we look to the next legislative session and bill pre-filing in December, your MoCannTrade PAC is building consensus and financial support for our industry.  Fair, sensible and safe legislative, policy and regulatory development are paramount to our industry's success. Our ability to support candidates, causes and speak with a bold, unified voice for our industry is dependent on contributions to the PAC.
Please consider making a voluntary contribution to the PAC or when renewing your MoCannTrade membership, please check the option to contribute to the PAC, which will reduce your membership dues by a corresponding amount.

ASSOCIATION & INDUSTRY UPDATES
Board Appointments, PAC Facility Tour in KC, Director Fraker Facility Visits, Attorney & Law Firm Highlight
MOCANNTRADE BOARD & COMMITTEE APPOINTMENTS: MoCann is still mourning the loss of Board of Director, TST Committee Chair and member Larry Ellison.  MoCann's nominating committee had the difficult task of making recommendations to fill Larry's open board and committee responsibilities. 
Part of that effort was softened with the appointment of Larry's son and business partner in three cannabis businesses (Ozarx Dispensary, CST Solutions and CST Transportation). We are proud to announce the appointment of Kevin Ellison to our Board of Directors effectively immediately. 
Additionally, John Curtis - MoCann Board Chair (Beleaf) was appointed to our 5-person nominating commmittee and Kevin "KC" Schnell from KC Cann Transporation and Security was appointed as Chair of our Transportation | Security | Technology committee. Many of you already know KC as the smiling face of KC Cann and transporter of products all across the state. Board bios for Kevin, John and KC are here.  Congrats to all three of you!   
JANUARY WEBINAR REPLAY:  All of our meetup webinars are posted for replay or download on our website. Members can access watch or download, but you must be logged in to your MoCannTrade account. 
PAC FACILITY TOUR WITH KC-BASED LEGISLATORS:  Last week, your MoCannTrade PAC Committee had the privilege of inviting / hosting local legislators including state Rep. Ingrid Burnett and Director Fraker to Clovr's manufacturing facility in Kansas City.  This tour is part of a series of medical cannabis facility tours happening across Missouri over the next few weeks. For legislators, these tours are a a first-hand opportunity to learn more about the medical marijuana program, its economic and community impact as well as ask their constituents and business owners questions.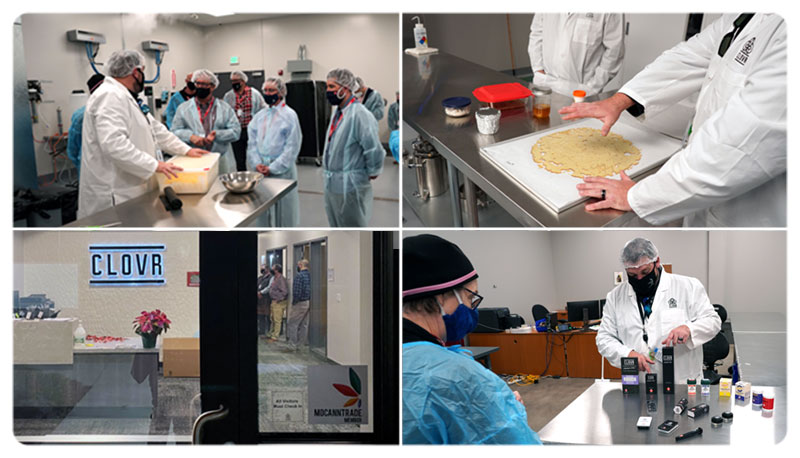 COMMENCED FACILITY TOURS WITH DIRECTOR FRAKER: MoCannTrade Director Andrew Mullins hit the road again with DHSS Director Lyndall Fraker to visit some of our newly commenced member facilities. The purpose of these visits is super-informal, really just a celebration of our member's hard work to get their businesses operational and serve Missouri patients. In addition to celebrating, DHSS and MoCann also use these visits to get first-hand licensee feedback which is super helpful to guide and inform program rule or policy improvements.    
3FIFTEEN PRIMO DISPENSARY - COLUMBIA:  Thanks to Jason, Charlotte, Wesley and the entire team for showing us around Boone County and COMO's first dispensary.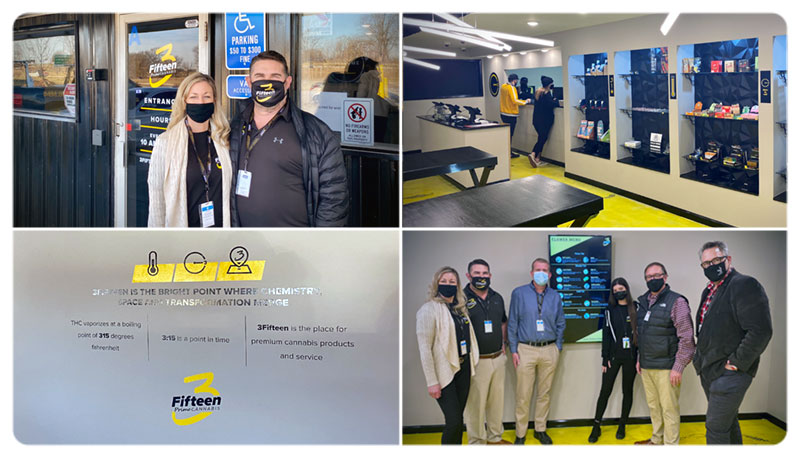 HIPPOS CULTIVATION - VIENNA:  Thanks to Nic, Van, Sherry and the entire team for the immersive tour of their now operating grow in Mid-Mo.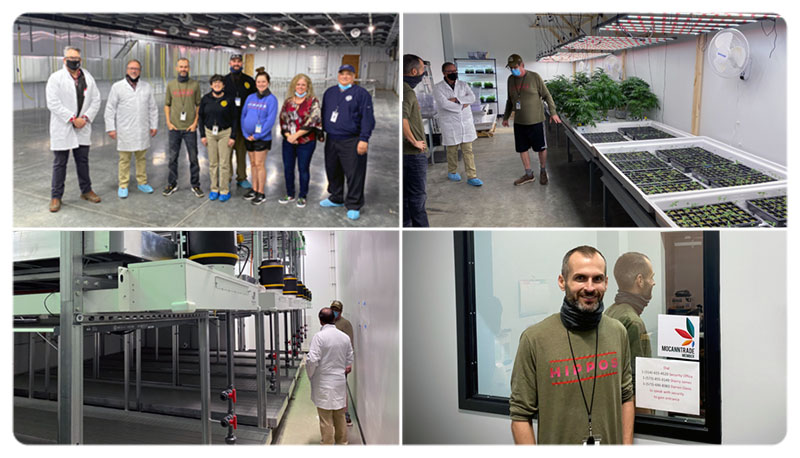 BESAME WELLNESS - SMITHVILLE:  Thanks to Jack, Leo, Zack and the entire team for showing us around and congrats on their now open KC location too!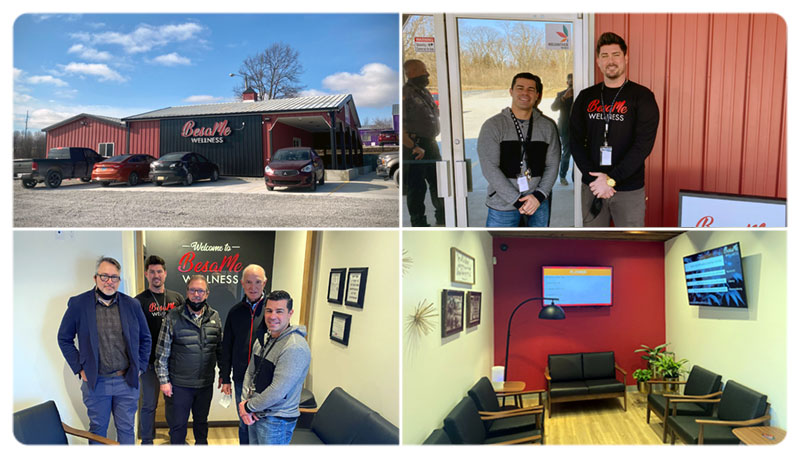 FROM THE EARTH DISPENSARY - KANSAS CITY:  Thanks to Nate, Tyler, Sage and the entire team for showing us around KC's first open dispensary.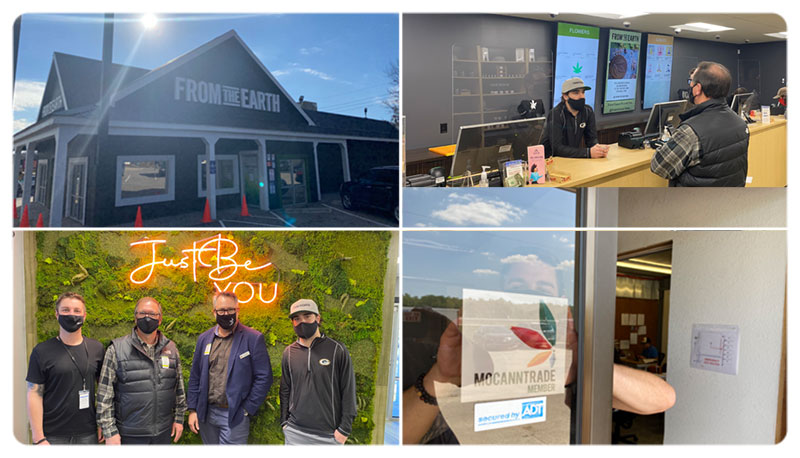 EXPECTATIONS FOR FEDERAL CANNABIS REFORM:  With the results of the 2020 election finalized, one of the clear winners was the cannabis industry, with every legalization proposal on the ballot passing. Voters in 2020 showed that cannabis legalization has grown in popularity to the point that it is no longer a partisan issue, but the progress seen in legalization at the state level has been accompanied largely by inaction at the federal level. The election of Joe Biden to the presidency and the recent progress of cannabis legislation in the House of Representatives give hope that the gridlock on nationwide cannabis reform may be coming to an end in 2021. Click here for the rest of the story.
SERVICE PROVIDER HIGHLIGHT - ATTORNEYS AND LAW FIRMS:  Is your current legal representative an expert in the medical cannabis industry? Don't leave anything to chance. MoCannTrade has various attorney and law firm members ready to service your legal and compliance needs. See these and others in our Member Directory including: 
NOW HIRING? POST YOUR AVAILABLE JOBS ON MOCANN FOR FREE:  For many of you plan for commencement, building your teams, etc MoCannTrade has an open and free opportunity for members to post jobs for interested job seekers. Postings are already up for positions across the state, add yours here. 

MISSOURI MEDICAL CANNABIS INDUSTRY NEWS COVERAGE
A COLLECTION OF RECENT STORIES FROM AROUND THE STATE
COMING EVENTS

Commencement & Compliance Updates, Vape Production, Safety and Innovation  
WEDNESDAY February 10th 2021 6p-7:15p 
Now that DHSS has more than 60 facility commencements under their belt, MoCann is excited to host DHSS SMMR Compliance Director Paul Rockers & Program Director Lyndall Fraker to share learnings, highlight compliance & commencement planning best practices along with a program update. In addition, we are hosting Mladen Barbaric – CEO of Airgraft a vaporization technology company. Mladen will be sharing his expert insights on vape production, vape safety and product innovation. This focused knowledge share will work to guide and educate all operators as vape products begin production and will be hitting shelves soon in MO.
Your entire team will find value in these discussions, presentations and industry submitted Q&A session.    
 ----Team Registration Provided Directly To Members Via Email ----
Your February Member Meetup is Brought To You By

Copyright © 2020

MoCannTrade

, All rights reserved.
 

This email was sent by:
MoCannTrade
#164 - 131 W. High Street
Jefferson City, MO, 65102

 

You have received this email because you are a member or existing contact of MoCannTrade, a membership organization powered by SilkStart. update notification preferences unsubscribe from this list



New Program Stats, August Meetup Save The Date