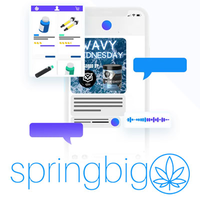 By Emily Tuttle | Springbig (The Cannabis Marketing Platform)
Text message marketing has become a staple in almost every cannabis dispensary marketing strategy, and for good reason: It's fast, it's easy, and it actually works. Traditionally, businesses use short codes (6-digit numbers) to send mass text messages. But, carriers have banned cannabis companies from using these. That's where 10DLC (10-digit long codes) comes in.
In this article, we'll be talking about the main kinds of text messages, with a specific focus on 10DLC and how cannabis companies can use them.
The Main Types of Text Messages
Generally speaking, there are three main types of text messages that are used today: Short codes, toll-free long codes, and long local codes. On top of this, there are two main types of text message traffic: A2P and P2P.
A2P vs. P2P:
A2P messaging stands for application-to-person messaging, which in normal terms just means business to customer. P2P (person-to-person) is traditional texting and is exactly what it sounds like, person to person messaging. Traditionally, A2P messages go through short codes (which we will discuss below), but unfortunately, these require the campaigns to be vetted and thus bar cannabis businesses from using them.
Short Codes:
Short codes are 5- or 6-digit numbers made for businesses looking to send out mass text message campaigns. These kinds of messages are made for sending millions of messages a day but come with drawbacks like a long process for campaign approval, cost, and low deliverability.
Toll-free long codes:
These are a good alternative to short codes. They're cheap and appear as a 10-digit phone number, but can appear foreign to those receiving them. On top of this, they're only capable of a few thousand messages per day.
Long local codes:
These are the typical phone numbers that you're used to seeing. 10-digits, and designed for P2P texting. This means they're only meant to support a couple hundred messages per day. On top of that, using them for A2P texting is against CTIA guidelines.
Each of these methods of texting present issues when it comes to A2P texting in the cannabis industry, which is where 10DLC come in.
10DLC
In short, 10DLC are local 10-digit numbers that can support the high volume of text messages that A2P messaging requires. Like we said before though, these numbers weren't originally meant for mass messaging, that was until third-party companies came in and started developing APIs that can send mass messages from 10-digit long codes. That means better delivery and fewer restrictions which is perfect for the cannabis industry.
The US long codes widely used by businesses up until now were only meant for P2P messaging. Because of this, carriers have always considered the current sending method used by businesses to text consumers to be an unsanctioned SMS route. That being said, things have begun to change as carriers have begun to realize the superiority of 10DLC, and they want a piece of the pie.
The new 10DLC text messaging process that has recently been announced has been specially designed and permitted for business messaging. It offers delivery reliability and security for business senders. It will also support the volume of messaging that is required for mass text messaging. For this very reason, your messages have been subject to some level of filtering.
Starting February 1, 2021, long code text messages sent to T-Mobile and AT&T customers have started the move to its new 10 DLC A2P service. Long codes are now being given official designation to be sent en masse by a business application like Springbig.
There is a grace period that expires sometime around June 1, 2021, when all messaging traffic for AT&T will need to be fully vetted and approved for 10DLC. Sprint and T-Mobile will follow shortly thereafter. Verizon launched its version of
of 10DLC in early 2020 but did not require a vetting process - just an increase in filtering for spam, scams, and unauthorized content related to SHAFT (Sex, Hate, Alcohol, Firearms, and Tobacco).
Cannabis falls under Tobacco which is why over the last 12 months if your text message copy contained cannabis content you may have seen a gradual drop in Verizon deliverability. That being said, using 10DLC effectively is still very much possible for cannabis businesses. All that you need to do is make a couple of changes to the content of your text message marketing campaigns.
For any questions, please contact Emily Tuttle: etuttle@springbig.com or check out Springbig online.
---