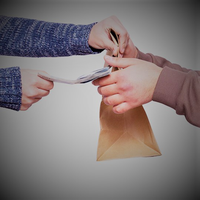 By TST Committee member and MoCann Advisory Board Member:
Tim Sutton, CPP, PSP, CHPA
Senior Security Consultant | Guidepost Solutions LLC
Attention MoCann dispensary licensee members and operators,
it has come to our attention that the DHSS SMMR has begun looking at facility compliance with a specific focus on straw purchase activity. With this concern in mind, your MoCann Transportation | Security | Technology Committee has developed the below best practices to ensure compliance related to potential dispensary straw purchase situations:
What is a straw purchase: A straw purchase is a purchase made by one person legally authorized to make the purchase, and then giving the product to a person who is not legally authorized to make the purchase themselves. A straw purchase can take the form of a patient attempting to use another person's credit card for payment, a patient getting purchase direction from another whether in-person or via phone or a patient making two purchases and then providing product to an unregistered friend or family member in or around the dispensary.
Providing distinction between direction of an order and advising on an order: If someone is with the patient and tells them something like, "I think this strain will help your qualifying condition the most," that is not suggestive of a straw purchase. On the other hand, saying "Buy that strain because it's my favorite" does suggest a straw purchase. That's not always an easy distinction, but it's important. People should be free to rely on the advice of their friends and associates when making a purchase.
Be proactive: The dispensary should also be proactive instead of just reactive here. For instance, we could envision a totally innocent scenario in which a patient, perhaps who has mobility issues, hands their bag of medical marijuana to their friend or relative as they get in their vehicle simply because it's difficult for them to both carry the bag and get in the car at the same time. Technically, if that person is not a caregiver or patient, they should not possess the medical marijuana, but they may not realize that. So the dispensary should advise people of these rules when they make the purchase and thereby avoid potential problematic situations.
Dispensary Signage: Another proactive dispensary opportunity, post signage at the point of sale saying that they will only accept check or card in the name of the patient/caregiver and not of a third party. Posting the policy for everyone to see will make everyone aware that it won't be accepted and will avoid potentially challenging or non-compliant situations.
Report and document issues as appropriate: Reporting these people to the DHSS or the MSHP is something the dispensary can and should consider. Instances where a patient is suspected of attempting to make a straw purchase and refusing the sale should be documented and memorialized in a security incident report. Any time the patient returns for a purchase, Security should monitor video when the patient leaves to see if the product purchased is transferred to anyone outside. Video coverage is required of the perimeter and exterior areas of the facility. Monitoring patients as they are coming and going from the facility to ensure their safety also works to observe consumption or straw transfer of product.
Communicate with or refuse to serve patients suspected of making a straw purchase: Every situation is different, but dispensary staff should consider at a minimum, refusing the sale to individuals who are attempting to use another's payment card for the transaction and refusing the sale to a patient who is suspected of purchasing product for someone who is not a registered patient or caregiver. Medical cannabis may only be legally sold to a card-carrying patient or caregiver. It is the duty and responsibility of dispensary staff to act upon these circumstances and disallow sales that are suspected straw purchases.
The Missouri medical cannabis industry has been so successful and untarnished by issues plaguing other state programs. Sharing information and working together can help ensure our continued success.
Remember: All Dispensary Staff Must Become Active Participants in the Safety and Security of Themselves and Others.
---