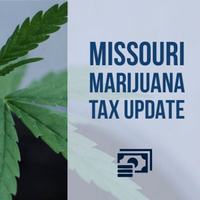 280E Update: Pursuing Normal Business Deductions for Missouri Medical Marijuana Licensees
Guest Post by David Smith, CPA, MBA, CM&AA | MoCannTrade Treasurer and Platinum Member | Smith Patrick CPAs
Cannabis businesses, also known as marijuana related businesses (MRBs), face significant tax challenges.
Though cannabis businesses are now legal in some state laws, they are still illegal under federal law. This results in a challenging situation for the federal income tax treatment as it relates to Federal statute 280E.
Missouri Medical Marijuana Legislative Action
Missouri legislators have introduced bills that would decouple Missouri law from the federal law for cannabis businesses.
SB 436 was filed by Senator Hoskins. Status: Whipping the votes for Ways and Means committee and visiting with Pro Tem on referral of bills.
HB 877 was filed by Rep. Christofanelli. Status: Looking into committee assignments, possible General Laws or Economic Development.
Other Marijuana Legislative Progress on 280E
Some members of Congress are interested in changing the law to permit taxpayers in a marijuana business to deduct their business expenses and claim applicable credits.
Bills have been introduced to effectively remove marijuana from the Controlled Substances Act and section 280E, thereby allowing deductions and credits.
In the meantime, while the federal legislation plays out, some states decoupled from federal law and permit state-level ordinary and necessary business expenses and credits related to a marijuana business.
States that have decoupled from federal law on marijuana-related business include California, Colorado, Hawaii, and Oregon.
Why 280E Impacts Marijuana-Related Businesses
In 1982, Congress passed Internal Revenue Code (IRC) section 280E in response to a Tax Court case concerning a drug dealer who claimed ordinary and necessary business expenses related to his drug sales.
Section 280E disallows deductions and credits for amounts paid or incurred in the trade or business of trafficking in controlled substances prohibited by federal law or the law of any state where the trade or business is conducted.
Marijuana is listed as a controlled substance on schedule I and II of the Controlled Substance Act. This is why cannabis companies can't take federal business-related tax deductions, which is a significant competitive disadvantage.
Read our previous article on the tax implications of 280E.
More Information
If you have questions about how Section 280E will affect your marijuana-related business's income tax, reach out to us at 314-961-1600 or schedule directly here to discuss your situation.
David Smith helps businesses and individuals develop smart business practices for tax and accounting advantages as the president of Smith Patrick CPAs. He serves on MOCPA's Legislative Policy Task Force and MOCPA's Firm Leadership Committee. Reach him at 314-961-1600 or schedule directly here.

About Smith Patrick CPA

Smith Patrick CPA is a St. Louis-based, family-owned CPA firm dedicated to providing personal guidance on taxes, investment advising and financial services to small businesses and financially active individuals. For over 30 years, our firm has focused on providing excellent service to businesses, non-profits, individuals and government agencies in St. Louis and the surrounding areas. Investment Advisory Services are offered through Wealth Management, LLC, a Registered Investment Advisor.
---