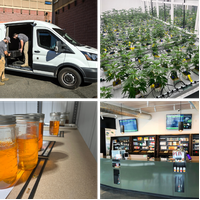 By MoCann's Transportation | Security | Technology Committee
As some operators are going through commencement, others are going through their first insurance renewal. The state recommended their insurance "expectations" in the licensing process with operators focused on securing coverage in order to get operators successfully commenced and compliant. Time was and is limited; however, it is always smart to ensure what exposures are insurable and the difference in coverages between carriers.
With medical and adult use cannabis remaining federally illegal, the number of carriers interested in writing the insurance is limited and often the forms are more restrictive in their coverage and language. It is important to review the exclusions on the policy to understand what is and more importantly, what is not covered in your policy. In addition, cheaper is rarely better. There are some carriers attempting to undercut the market, but be aware, chances are if you have a claim with these certain carriers you may not be covered. Additionally, you will likely see double-digit increases on your subsequent renewals despite your claims history, or lack thereof. Make sure you partner with an Insurance Provider who knows the industry and has been a mainstay in it to avoid these pitfalls.
Finding a Provider who can offer the necessary Property capacity needed is also a challenging aspect of securing coverage for your businesses. Most Providers will cap their total Property limits which includes coverage for your Building, Business Personal Property, Business Income, and Inventory/Crop, at $10M (or less) and only a select few have limits of $25M or greater. Make sure you have the proper fire safety measures in place to protect your investment and avoid catastrophic losses which could ultimately put you out of business.
Product Withdrawal is very timely in Missouri. Although there have not been any product recalls, there have been administrative holds impacting a larger swath of the marketplace. With a recall scenario, have you considered who would be responsible for disposing of the recalled products? Liability, likely, would fall on the cultivators and/or manufacturers and possibly the dispensary retailer depending on the circumstances. Good news is, you can insure exposure to dispose of the product but at this time, coverage for the product itself and lost cost are not available; however, several carriers are looking to add this coverage as interest is growing across the industry. As newer products are being developed (e.g. Delta-8, Delta-10 etc.) and flooding the marketplace make sure to pay attention to Product exclusions in your policy as most Providers are hesitant to offer coverage on these relatively unproven products.
Product Withdrawal: Carriers will offer limits of $100,000 up to $250,000 for an additional premium; this will help cover the expense of disposing of the product properly up to the sub limit secured. Deductibles tend to range from $2,500 - $10,000.
Cargo and Cash transport: Who owns the responsibility to insure? What is the best policy to secure? This will come down to who has care, custody and control of the product. It is imperative to address this in your service agreements with your transportation/security company. It is important to understand the perils that are covered in the following policies.

Property in Transit: This is just as it sounds, coverage for goods while in transit. On many property policies, this coverage is included under a property enhancement with limits ranging from $5,000 to $100,000 and deductibles starting at $1,000 and up. Please note that this does not cover cash. You need to look at your money and securities coverage and through the property enhancements, limits tend to be capped at $25,000.

Motor Truck Cargo: This will cover product and/or cash in transit either first party or third party. It is important to read transportation agreements to confirm who has the care, custody and control and who is responsible for the product and cash. Underwriting will look at how many vehicles are in the fleet, radius of deliveries, and the value of the products and cash per trip.
Crime: Crime limits can often be limited and deductibles can be higher for both Products, Money and Securities coverage. However, it is well known that a majority of stolen cash incidents reflect "inside jobs''. Therefore, it is vitally important to have Employee Dishonesty coverage as part of your policy, or secure a fidelity bond. Coverage for Money & Securities and Employee Dishonesty is often included as part of a Property Enhancement form and has sub limits associated with the coverage. Whereas theft of Product is often included in the Property subject to certain warranties being in place.
Owning and running a multi-million dollar business with a dynamic group of investors leaves the ownership and executive group vulnerable. Decision-making and communication are key. This is also an insurable risk by securing Directors and Officers coverage. In addition to a dynamic investor group, each operator will hire and train employees. As the employer of teams from 2-200, there may be exposure to certain employment claims and disputes including wrongful termination, sexual harassment or discrimination and this is where EPLI comes into play.
Employment Practices Liability: Employee turnover is high in any industry and cannabis is no exception. EPLI protects the insured entity if an employee sues for discrimination, sexual misconduct, wrongful termination etc. Even if you are wrongfully accused, there are still legal costs. Coverage is also available for third party claims, it is important to confirm if a third party is included. Limited carriers will write this coverage as a monoline policy and can be written on the D&O policy.
Directors and Officers (D&O): How diverse is your investor group? As a young business with many significant decisions being made, are you confident your decisions will not be questioned. There are several carriers that will write D&O with each one offering different forms. The higher the premium the better the coverage. It is important to compare the different carriers forms to make sure you risk is with the best carrier for your exposures i.e. Private vs Public companies and their differing needs.There is currently only one complete D&O product offering out there tailored specifically for this industry's privately held companies. The majority of the marketplace is offering off-the-shelf coverage that more often than not, doesn't meet the needs of your business and is something to be mindful of when purchasing this coverage.
Cyber Liability: Cyber coverage is tough for any risk and the cannabis risk market is limited, volatile and premiums are increasing. Cannabis risks can transfer risks to their third-party vendors; however, there is still considerable exposure. Cyber polices are robust and no two are the same. Policies are broken down into first-party and third-party insuring agreements. One of the most common is ransomware, there is an instance where an out of state grower was using a computer to control and monitor fertigation and the system was hacked. The hackers demanded ransom and would not allow the insured to access their facility systems until it was paid. The security system was set up on the same Wifi/technology system and their crop was destroyed in two days. Likely you would be adequately insured on your crop value, however the trigger would be cyber and could not be covered under the package/crop policy.
Professional Liability: This coverage is tricky and covers medical advice given by a credentialed professional. This coverage does not cover dispensary agents / budtenders, which is where the biggest exposure lies. Technically, there is no exposure for cultivation and manufacturers because no advice is given to patients. A sub limit of $100,000 in budtender liability can be added to some carriers' policies.
Errors and Omissions: Cultivators and manufacturers would have an exposure if they are in a contract with another cultivator or manufacturer hired for their expertise and service in producing manufactured products. This coverage is also very important for testing labs.Cannabis is rated differently based on where it is in the process. Cultivators and Manufactures need to make sure they are not missing a step in the process.
Crop Insurance: Crop insurance is the toughest risk to value. Carriers tend to place maximum value for the stage of the plant. Oftentimes the values and timing does not match your internal systems and several carriers may value it differently. It is important to complete the table using the carrier values and estimating based on your most robust harvest to ensure you are insured properly. Coverage is expensive in comparison to the other property coverages, in addition you need to understand which perils are covered.
Stock in Process: This coverage is applicable to manufacturers. Your cannabis materials are purchased and you are transforming into your product, make sure you insure the cannabis materials prior to being transformed into its final product.
Marijuana Inventory In order to be properly insured, you need to look at any given day, what your inventory will be, if there is a loss you cannot predict if it will be on a day when your deliveries arrive or when inventory is low. Most carriers value this as actual cash value vs replacement cost. You need to review your policy and confirm. In addition, most carriers will only cover a % of products that are in the display cases. This coverage also comes with warranties that products are secured and monitored properly.
Here are some hints for property/liability/auto and workers comp coverages
Property – Building

Building Value – Cannabis carriers do not write on an agreed value, so it is imperative to value your building within the co-insurance limit, most carriers will write on an 80% and 90% of value. If you are under-insured you can incur a co-insurance and penalty.

Anything attached to the building should be included in the building value i.e. HVAC

Business Personal Property These are the contents that are not attached to the building, i.e. cultivation lights, display cases, computers, servers, etc.
Business Income vs Business Interruption This coverage is designed to keep your business stable, in the event you have a property loss and are not able to operate. Business Income is more robust coverage, whereas Business Interruption is more refined. Make sure you know how your policy covers this exposure. Most carriers will write business income, whereas some are switching forms to business interruption, without notifying the agents of the change. Business Interruption covers normal fixed operating expenses incurred, including payroll for key employees; however it will not cover lost income
General Liability: Slips, trips and falls on premise. This can be written occurrence or claims made and is rated with off sq ft or revenue and is subject to audit.
Assault and Battery: Carriers are reluctant to include coverage; they expect that you transfer liability to your hired security company. If you provide a certificate of insurance proving that they do have coverage, most will offer a sublimit of $100,000. The contract and certificate should include your business as a named additional insured with Waiver of Subrogation, Primary non-contributory language on your security company's insurance policies. If you are working with a reputable security company, this request is standard.
Excess Liability: Additional limits per occurrence/claim. Important to note if this overlies the General liability only or over the products liability as well. Auto liability will also need to be confirmed. Most Excess policies offered go over GL only, make sure you clearly understand what the excess will include. Most policies should follow the form of the underlying, this policy is no exception, review the forms and exclusions.
Product Liability: Product Liability protects the business if there is a bodily injury or property damage incurred from use or consumption of the product. This is written on claims made coverage and is subject to a step factor for several years to pick up the previous year(s) exposure. This is rated off revenue and is subject to audit. It is recommended to review revenue at least every 6 months to determine if you are on target or if you should expect to pay an additional premium at the conclusion of the audit. It is best to provide conservative sales estimates as opposed to over-estimating. Oftentimes if an audit shows less sales than what was rated, there is no premium refund. If the audit shows higher sales than estimated, additional premium is due. This coverage specifically is very important to review all of the exclusions and to understand how vape cartridges and products are covered and rated.
Auto Liability: There are minimal auto carriers in Missouri, more are expected and the few that are approved are having difficulty rating to be competitive. Auto policies are restrictive, it is important to keep your auto fleet current and your drivers list up to date. If not, there is a chance your claim could be denied. Regarding physical damage coverage don't forget to include the value of the attached equipment. Risk management practices are imperative to mitigate the chance of auto liability lawsuits, it is important to have a driver's training program.
Hired-non owned auto: Non-owned auto extends liability coverage to the business owner when an employee is using his or her own auto for business. It is important to understand that if an employee is driving their own auto their insurance is primary, where the businesses would be secondary and not cover physical damage. Hired auto includes liability coverage for a rental vehicle and physical damage can be added upon request. This coverage can be written on your GL or Auto policy. Carriers have tight restrictions on whether they are comfortable writing the risks. Most carriers will not cover B2C exposures, if this is your plan; make sure you tell your insurance broker and complete the application properly.
Workers Comp: All companies with five or more employees are legally required to carry workers comp insurance. Manufacturing risks carry the highest rate and information on the extraction process will need to be underwritten. Carriers are also very diligent in confirming which owners and executives are included and excluded from coverage. This policy is auditable and unlike the liability audits, if you over estimate you will receive a return premium. Understanding the MO work comp law, claims process, and duties in the event of a claim are important in controlling work comp insurance cost.
Insurance is complex in the cannabis industry, so it is important to collaborate with an insurance broker well versed in the coverages and complexities of this industry. There is also a fine line on being over insured and underinsured, it's always a good idea to not get caught underinsured.
Please note that the carrier's forms and limits can change at any time. Information shared in this blog is accurate as of 02-28-2021.
MoCann's Transportation | Security | Technology committee recommends checking out these MoCann members who specialize in cannabis risk analysis and coverages: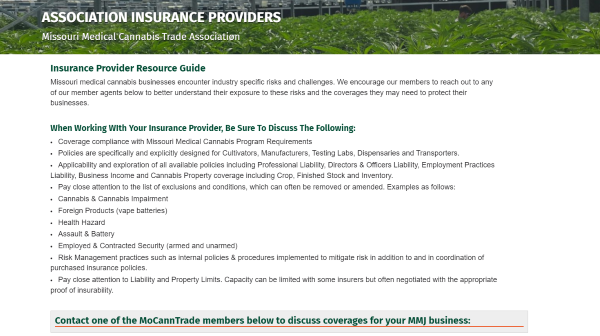 ---