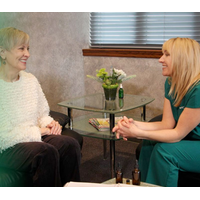 Creating a Superior Medical Cannabis Patient Experience
There's no doubt that if you've been awarded a dispensary license you've thought long and hard about education, for staff, patients, and your local community. DHSS regulations require that dispensary staff meet minimum education on 7 topics - including "The differences in the purported effects and effectiveness of the strains of medical marijuana for purchase at that dispensary and the methods of their use." The constant messaging for the program in terms of medical advice is clear - non-clinical employees must NOT offer anything resembling medical guidance - including efficacy, effects, or treatment. Your regulation-compliant educational information will appear in blogs on your website to printed materials to events at the local Chamber of Commerce.
Your staff training will no doubt include hours of learning how to use your POS, compliance, and the security measures you have in place, but have you thought about how you will teach your front-line staff how to interact with chronically ill patients? Or how you will teach them to provide a superior patient experience?
We are very proud of the services we provide to patients, but we also know it is important to teach the industry as well. For many patients, their first experience with medical cannabis begins as soon as they step across the threshold of your dispensary. Patients will be looking to dispensary staff to help them find an effective symptom-management plan. We hear repeatedly that patients don't want to smoke, and they don't want to feel the psychoactive effects, they simply want to heal without getting high. They are not looking for temporary relief, they are hoping for a better quality-of-life and want your staff to teach them how to do that.
94% of dispensary staff reported that they give specific cannabis advice to patients, less than a quarter receive any medical or scientific training specific to their role, and 71% of dispensary employees reported they make specific cannabis recommendations based on their own experience (Huag, 2016). You know that cannabis is individualized, and the fastest growing consumer demographic of cannabis patients are seniors. We are doing a disservice to these vulnerable patients if a recommendation is based on someone else's experience.
We have been so fortunate to work with dispensaries who have values that align with ours and focus on the patient experience and education. We have spoken with patients from all over the United States and understand what patients are looking for in a medical dispensary. So, we wanted to share these best practices with you. Consider these a freebie and let us know if you would like to hear more.
First and foremost, make it about the patient. When you visit your own physician, do they tell you what medication really helps them sleep or about their health issues? No, as soon as someone in a dispensary mentions what they use a particular chemovar for it becomes about them and the focus is taken off the patient. Have your staff try to be mindful of talking about themselves or what works for them and avoid making any claims that could be interpreted as medical guidance. It's about the patient, not the staff. There will be patients who want to know what your staff likes and what is popular, so make sure your staff is trained to know what to listen for before making recommendations. Good ways to help your agents avoid what qualifies as medical advice is for them to say things like, "We've had several patients report good luck with relaxing using our XYZ strain, that might be something you want to think about." rather than "Strain XYZ is great for relaxing! It's for people who have anxiety."
Give clear instructions on how to use the product. Not all patients will know they need a battery for a vape cartridge or that they can cut a piece of chocolate in quarters or halves. We get calls all the time from patients who purchased something they were told was a great product and have no idea how to use it or used too much and had a bad experience. We recently completed Dispensary Staff Training at a retail location in another state and one of the budtenders shared a story of accidentally ingesting 37 mg of THC instead of the 3 mg she wanted to. Needless to say, it was too much for her and she had a terrible day. If this can happen to someone who is familiar with the products, think about the likelihood of it happening to your patients. Next time you see us, ask us about the call we received about the burning rubber plug. Before that patient walks out the door the question needs to be "What questions do you have?" not "Do you have any questions?" and remember saying, "What else can I help you with?" is most-commonly answered with "nothing."
Every patient that walks through that door should be recognized as a loyal customer, not a transaction. Customers are often overwhelmed when they come into a dispensary so teach your staff to meet the patient where they are at. We would love it if all patients received a review of the endocannabinoid system before they made their first purchase, but some patients aren't ready and it may be several months after their first purchase before that education will take place. If they are only looking for a salve that day, great, but have your Wellness Specialist tell them to come back and let them know how it worked for them. That next visit may be the best time to discuss oils & tinctures.
Each time a patient comes in, send them home with a new piece of information. If a patient really liked the effects of the last chemovar they purchased it may be a good opportunity to teach them about beta-caryophyllene or if they have come in to purchase flower to make their own edibles, guide them to an online edibles dosage calculator. DHSS requires that you offer information about potential risks and side effects, so have your staff practice how to communicate this verbally for the time when it may be appropriate. "Wow! I learned something new today!" will keep them coming back for more.
Be selective with your sales and bundles. The customer wanting the salve above may really want to address their symptoms of arthritis and what better way than to offer a discount when a salve and oil are purchased at the same time. We know that for patients to really find an effective symptom-management plan it is going to take a variety of a few different products, with both long and short-acting methods of delivery. Please remember not everyone wants a pre-roll. Pre-rolls with a purchase are a great way to get those off the shelves, but for the patients who do not want to smoke, give them another option. "Sue," a patient from another state called us because she had quickly grown frustrated with her cannabis experience which she had imagined would be much easier. New to cannabis and had never smoked anything in her life she first purchased a vape pen and was sold a discounted pre-roll. She was told what a great chemovar the pre-roll contained and she was anxious to try it. She took one inhalation and said never again. She didn't like the taste, smell, or smoke. Next, she tried the vape pen, and this didn't go much better. On her next trip to the dispensary she was sold a concentrate she referred to as RSO, because it was on sale. She said she followed the directions, but was still unable to get out of bed for two days. When she talked to us she was ready to give up because she had already invested too much money on products she would not use. After talking with us about her conditions and what might be worth her trying, she has found a product she is very pleased with.
Go beyond handicapped accessible entry. Teach your staff to recognize patients who are having a difficult time standing or have a mobility device. If there is a line outside, offer seating for these individuals and for patients with impaired hearing make sure your staff knows how to turn down the overhead music or offer a quiet room where the patient can sit and learn about the products.
Train your security too! With patients often waiting in lines and their first interaction possibly being with a security professional - ensure they have access to a menu and can explain the process of obtaining their medical card. Unfortunately, patients will show up without a medical card and your security team should be able to get them to the right place.
Lastly, remember that medical cannabis treatment is often very expensive and can cost patients several hundred dollars a month. To attract a variety of cannabis patients avoid overly luxurious décor and focus on providing an environment that is clean, welcoming, and comfortable.
If you are interested in learning more about the services Cannabis Care Team provides to dispensaries please check out this video.
https://prezi.com/view/lL1f5TVMCYOwKX0Nqlgl/
Source: Huag, N., Kieschnick, D., Sottile, J., Babson, K., Vandrey, R., & Bonn-Miller, M. (2016). Training and practices of dispensary staff. Cannabis Cannabinoid Res, 1 (1), 244-251. Doi: 10.1089/can.2016.0024.

---