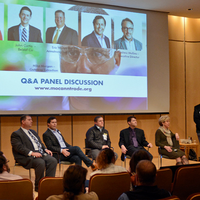 Recap: Cannabusiness & Cultivation 2: Entering Missouri's Medical Cannabis Industry
Earlier this week, MoCannTrade returned to Danforth Plant Sciences / Venture Cafe with a brief presentation on entering the industry, economic impact and an expanded Q&A panel featuring medical cannabis industry experts from MoCannTrade's board and membership. This panel provides context for entrepreneurs, businesses and cultivators interested in participating in Missouri's broadly expanded medical cannabis industry whether as license applicant (cultivation, processing, dispensing, testing or transport) or service provider (CPA, Legal, IT, Security, Industry Consulting, Design/Build, Electrical/Lighting, Greenhouse, etc).
Cannabusiness Q&A Panel:
Mitch Meyers: CEO – Beleaf Co. | MoCannTrade member
John Curtis: Director of Cultivation – Beleaf | MoCannTrade Board Co-Chair
Eric Walter: Attorney – Armstrong-Teasdale | MoCannTrade Outside General Counsel
John Pennington: Broker/Owner – Savoy Properties | MoCannTrade Business Committee Chair
Mike Morgan: Owner – Gateway Extraction | MoCannTrade member
Photographs by Kt Roberts
MoCannTrade is an association of business owners, professionals, practitioners and patients proactively working together to build a successful, safe, compliant medical cannabis industry in Missouri.
---