Registration for this event has passed
BDSA National & Missouri Cannabis Industry Sales Data, Market Insights, Product Trends and Pricing
MoCann Platinum Member BDSA Provides A Valuable Look at Sales | Product Trends and Forecasts
Join BDSA's Insights & Analytics Director, Andy Seeger, for a special, free presentation for MoCannTrade members. He'll cover the current state of the US cannabis industry, then take a deep dive into the data on Missouri's medical market. With a focus on top brands, product trends, and pricing, he will give a granular view into what is winning in the Missouri cannabis market.
We'll investigate the similarities across top brands, where they differ and wrap up with a look at what the latest cannabis consumer insights – based on BDSA's Consumer Insights Wave 10 data – which tells us about the modern cannabis consumer.
Top cannabis brands in Missouri
Pricing and product trends in the Missouri market
Is Missouri the model for how new markets will develop?
Predictions on brands to dominate new markets
Brand loyalty in cannabis – What do the data tell us
Latest Consumer Purchasing trends
This is a free webinar for MoCann members. Click the link to register.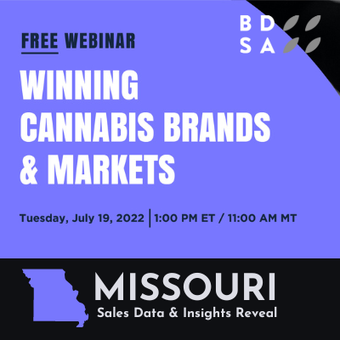 https://resources.bdsa.com/winning-cannabis-brands-and-markets