No registration through this site, event registration provided directly to members via email.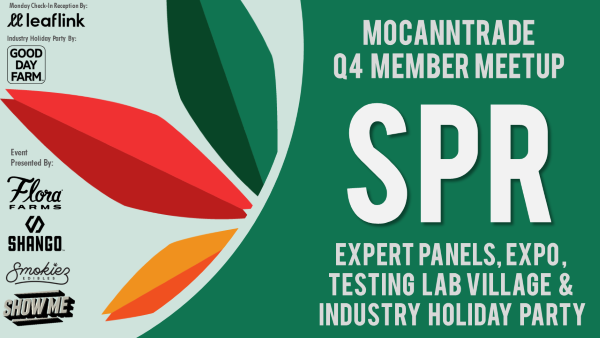 MoCann Q4 Member Meetup | Springfield
Tuesday December 5th 2023 2:00pm-7:00pm
MoCann's Q4 2023 Meetup returns to SWMO for another night of knowledge share, connections, industry and business fellowship. Once again, we'll be taking over the University Plaza Hotel and Conference center for our large, private event to accommodate 600+ MoCann members.
Our quarterly industry meetups are free to attend for members and will again feature our very successful format of providing:
An intimate brand and service provider expo area with over 40 tables

A Missouri testing lab showcase, meet, greet and discuss your product testing needs with 9 different MoCann member testing labs.

A standing up your Microbusiness panel discussion

An industry policy panel discussion with MoCann's Government Affairs committee

An industry and association update from MoCann

A legislative planning update from MoCann's legislative partner Strategic Capital Consulting

An industry after-event nearby
Q4 Event Schedule:
Monday 6p-8p: Leaflink Presents - Early badge pickup in the UP lobby with complimentary libations and industry meet & greet

Tuesday 2p - 7p: Expo, brand showcase and testing lab village opens

Tuesday 3p: MoCann Microbusiness Panel Discussion

Tuesday 4:30p: MoCann Industry Update, Lobbying Update, Government Affairs Panel Discussion

Tuesday 7:00p: MoCann Official Q4 After-Event and Industry Holiday Party at Tower Club
MoCann Panel Discussions:
Panel #1: 3:00pm-4:00pm
You Won A Micro, Now What?
Get Your Microbusiness Operational With Expert Industry Insights
So far, 48 microbusiness licenses have officially been awarded (32 wholesale facilities, 16 retail dispensaries) and MoCann is once again assembling a panel of cannabis industry experts to knowledge share and support via key industry / compliance insights, best practices and efficiencies to help ensure a successful microbusiness launch.
In addition to the panel discussion, microbusiness members also benefit from access to Missouri's established cannabis industry leaders with over 600 attendees in Springfield. Micro attendees can benefit from our Government Affairs rule, regulatory and legislative panel discussion, industry networking, a cannabis industry expo with over 40 relevant service providers, a testing lab village, industry after-event and holiday party that puts our commercial and micro members face to face in a casual yet professional business atmosphere.
MoCann meetups help bring together our industry under one tent and work to get industry participants informed, educated and prepared to integrate into Missouri's highly successful cannabis industry.
Moderated By: John Payne - Amendment 2 Consultants | Amendment 3 Campaign Manager
Panelists:
Boston Dickerson - Vivid Cannabis: an operators POV to stand up your cannabis business
Patterson & Associates - Joe Patterson: security and IT planning/compliance, what DCR expects from licensed facilities
Grow Generation - Hayden Sherman: finding efficiencies with the equipment and supplies needed to operate your licensed business
AVAIL Pro Services - Paul Bocci: capital sources and alternative funding approaches
Advisory Council - Stephen Boone: quality management system requirements, compliance and staff training efficiencies for micros
Green Precision Analytics Testing Lab - Cullen Miller: understand what it takes to ensure all cultivated and manufactured micro products are ready for 3rd party testing requirement
Panel #2 4:30pm-6pm
MoCann Government Affairs Committee Rule, Regulatory and Legislative Policy Panel Discussion
MoCann's GA Committee is a 5-person voting committee working to understand, create, guide and communicate regulatory matters between association members, their assigned industry committee, the board of directors and relevant state organizations. Composed of industry and regulatory specialists, this committee focuses on policy matters to ensure a fair, compliant and expedient program. The panel discussion at Q4 will focus on both where we've been and where we are going in the coming year from a policy POV.
Moderated by: Eric Walter - Armstrong Teasdale Partner and MoCann Outside General Counsel
Panelists:
Josh Mitchem - CLOVR (GA Committee Chair)
Chip Sheppard - Carnahan Evans PC
Bradford Goette - Proper Cannabis | NBliss
Mitch Meyers - Beleaf | Sinse | Swade
John Payne - Amendment 2 Consultants
Jack Cardetti - Tightline Strategies, MoCann PR
Thomas Robbins - Strategic Capitol Consulting, MoCann Lobbyist
Special MoCann / UP Hotel Rate Discount Here:
No registration through this site, event registration provided directly to members via email.
Be advised, MoCannTrade quarterly meetups are member's only events. If you are not yet a member, you are welcome to purchase a membership online which will provide your group with (4) free registrations to the event. Each quarter, hundreds of Missouri licensees, stakeholders and service providers attend our meetups for industry-relevant thought leadership, policy impact, networking, and knowledge share.
Registration for this event has passed