No registration through this site, event registration provided directly to members via email.
Q2 Member Meetup STL (in-person)
Providing Association, Government Affairs, Legislative and Program Updates
Thursday June 10th 2021 4:00pm-6:30pm
St. Louis Ballpark Village Brewhouse (private, indoor/outdoor space)
MoCannTrade is excited to announce the return of our in-person member meetups as quarterly events starting with our Q2 meetup in St. Louis on June 10th 2021. We have selected a large, private, indoor/outdoor event space that can safely accommodate 250 of our members while still allowing for social distancing.
In an effort to bring all of our members up to date on industry, program, legislative, regulatory and association matters .... we are hosting this in-person meetup with brief presentations from leaders of MoCannTrade, Strategic Capitol, Missourians For A New Approach, DHSS SMMR along with a panel discussion including our Government Affairs committee, general counsel and DHSS deputy director and counsel.
Our member meetups have been the foundation of the association and our industry's success. We are so happy to be back together, in-person for a night of networking, industry updates and business fellowship in a spacious, private, casual and professional atmosphere.
Q2 2021 STL | Member Meetup Program:
4:00p-5:00p – Check in and networking
5:00p-5:15p – Association and Industry updates (Andrew Mullins & Jack Cardetti)
5:15p-5:30p – MoCannTrade legislative updates (Tommy Robbins - Strategic Capitol)
5:30p-5:35p – Adult Use Ballot Initiative campaign update (John Payne - Missourians For A New Approach)
5:35p-5:45p – Program updates (DHSS SMMR Director Lyndall Fraker)
5:45p-6:30p – Government Affairs (GA) panel discussion with audience Q&A
6:30p-7:30p – Open Networking and Fellowship
7:30p-8:30p -- MoCann Platinum Member Sponsored Bar (they got the drinks)
Be advised, this is a MoCannTrade members only event. If you are not yet a member, you are welcome to purchase a membership online which will provide your group with (4) tickets to the event. For over three years, hundreds of Missouri MMJ licensees, stakeholders and service providers join us for our industry-relevant thought leadership, policy impact, networking, and knowledge share at our industry meetups.
Presenting Sponsor: Triad Bank
Table Sponsors: Weedmaps, Brytemap, Trifecta Payments, Beleaf Medical, Clovr Cannabis, Vivid Canna, 5150 N'Fusion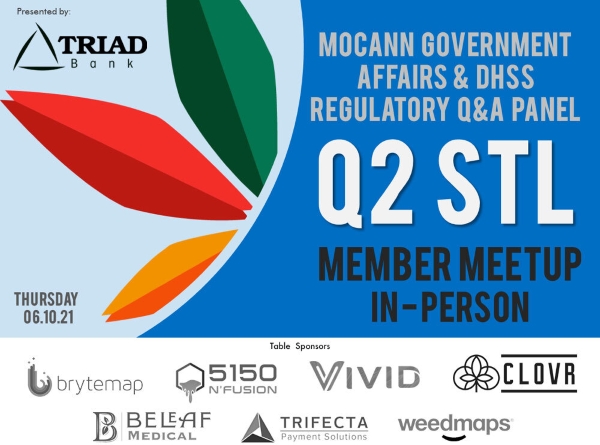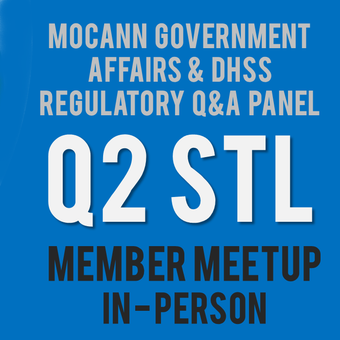 601 Clark Ave #101, St. Louis, MO 63102, USA