Register Now!
Or paste this link in your browser's address bar: https://emamo.com/event/cannabis-sustainability-symposium-series-carbon-and-cannabis/
The Cannabis Certification Council is excited to announce The Cannabis Sustainability Symposium Series returns in April and The Council is so pleased to bring you an Earth Day Symposium Special, April 22, 2021.

The 90 minute CSS Series event is titled: Cannabis and Carbon - The Impact and Opportunity of Cannabis

Attendees will hear from globally respected environmental experts who will offer a high-level summary of the impact of commercial agriculture and the effects on our climate along with solutions and best practices to reduce environmental degradation.

The panels will zoom in on understanding the impact of cannabis farming (indoor, greenhouse and outdoor) and the importance of creating baselines to measure improvements.

Get your ticket now as space is limited!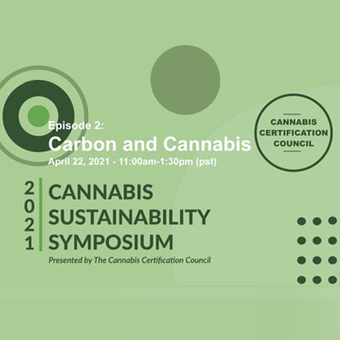 https://emamo.com/event/cannabis-sustainability-symposium-series-carbon-and-cannabis/