Please see the full event and registration info and form below. Please do not RSVP or register via this website, you must register and pay via the below reg form instructions.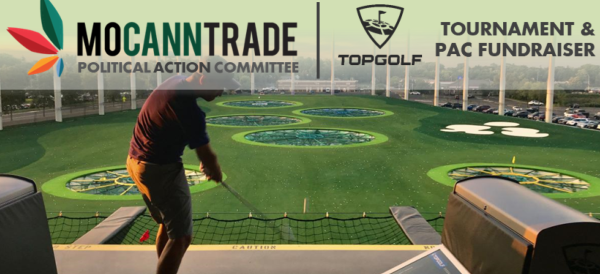 MoCannTrade and the Missouri medical cannabis industry recently completed our third successful legislative session. Having 100% success for bills/amendments we advocate for would not be possible without the support of our members and a strong MoCannTrade PAC.
As we approach our fourth legislative session since legalization, we need your help to ensure our PAC fund is robust enough to support the candidates and causes critical to our industry's success … and you get to have a little fun with your industry peers in the process!
MoCannTrade PAC Top Golf Tournament & PAC Fundraiser
Tuesday, August 10, 2021 – 4:00p – 8:00p
TopGolf - Chesterfield, Mo
Donation and Participation Levels:
Industry Leader $5000 Donation (up to 6 players or guests, 6 long drive & hole in one entries)
Industry Mover $2500 Donation (up to 3 players or guests, 3 long drive & hole in one entries)
Industry Player $500 Donation (single tournament player, 1 long drive & hole in one entries)
Industry Guest $100 Donation (food, drink and hang … no golf)
Industry Table | Tournament Sponsor $1000 Donation (4 attendees, no golf)

16851 N Outer 40 Rd, Chesterfield, MO 63005, USA